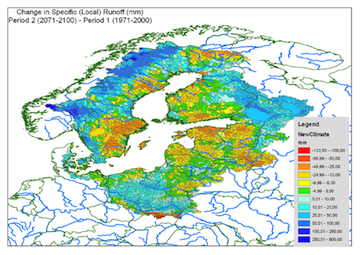 Future rain, snow, and river flow are exceedingly difficult to model and predict. For example, modelling of the future hydrological cycle suggests that some regions over Scandinavia will have increased river runoff, but the response is not homogenous, meaning that some regions may instead expect decreased runoff (Figure 1).
In general, though, high northern latitudes, including northern Canada and the Arctic, are expected to experience increased precipitation and generally higher river runoff. The seasonal regime of river ice is predicted to change, with more severe break-up events and more common break-up during the winter season. During the summer, increased temperatures are expected to increase the process of evaporation, which may induce large scale hydrological changes such as drying of lake systems. In the cryosphere, all components of the hydrosphere are highly interconnected. These components include permafrost, groundwater, precipitation, rivers, lakes and the Arctic Ocean. Changes in one of these components would influence changes in all components. For this reason, it is difficult to predict the effects of changes in river ice to the system itself as well as the entire cryosphere system. Prowse et al. modelled projected changes in average spring air temperatures across the Arctic with relative changes in 0° isotherm. In Figure 2, air temperature, temperature change and 0° isotherm are compared between three time intervals: current, 2041-2070 and 2071-2100. From these modelling results, it is clear that the temperature is expected to increase in all rivers, particularly in regions furthest from headwaters. Moreover, this overall temperature increase is coupled with a change in location and timing of the 0° isotherm (SWIPA, 2011) (IPCC, 2007).
Material on this page was provided by Thomas Bergeron and Yves Gauthier (Institut national de la recherche scientifique) and Maren Pauly (Department of Geography, University of Waterloo).
Last updated on 06/11/2017